Composite or Hardwood decking? ​
In the not too distant past, back when I first picked up a shovel and ventured into landscaping and garden design, timber decking was all the rage and we were throwing together American style decks like there was no tomorrow. Except tomorrow it rained, and the day after, and half of the days to come after that. We soon realised that softwood was not meant for decking in the UK, especially in the gardens of the North West of England. After all of the scrubbing and re-staining along came composite decking. It look a bit plastic but it meant we could still have decking but we didn't have to spend hours maintaining each year. It didn't look perfect but it did the trick, kind of! Over the past few years decking has really made a comeback and whereas before my clients shuddered at the suggestion of a deck, many are now seeing the benefits of them and they've once again become an integral part of the contemporary landscape. They add texture with their clean lines and bright ideas such as ground level decks they break up the paving adding shape and form. The question I ask my clients when they include decking in their design brief is Timber or Composite? I still see that shudder as soon as i mention timber. "No not softwood, hardwood" I explain, yet still I'm met with reservations. Which should you choose, what are the benefits of each type of material and what are the drawbacks? Let's start with composite decking. Often recycled plastics and wood fibres this isn't going to rot, swell, twist and warp although the frame it's built on may still do so. Some are non-slip but a lot are not and equally dangerous especially in frosty or damp, shady conditions. You can now use composite frames to build decks on which it a no-brainer if you ask me, but this is the most expensive way of building a deck. Composite require very little maintenance, just the odd sweep and washing down. My problem with them is always the visual appeal, some look good especially in silver as they don't look so much like plastic wood. Within the last few years Millboard has risen and brought us their incredible Enhanced grain which is polyurethane moulded from smooth timber to give a really effective and non-slip finish (see image). It actually looks like wood! It's not cheap however and by far the most expensive option when creating a deck but well worth it. Follow the link for more information https://www.millboard.co.uk Forget your previous experiences of Scandinavian Pine decking, there is a natural alternative in alternative softwoods and tropical hardwoods. If it's in the damp shade all day then it can gather algae and may get slippy as will anything, even composite decking in the same position. There are several options from the more durable softwoods such as Red Western Cedar and Siberian Larch to the almost indestructible tropical hardwoods such as Yellow Balau, Iroko, Mandioqueira etc. All FSC certified and sourced from sustainable sources although they wouldn't be as environmentally friendly as composite. For me this is the look I would want in my garden. It won't look as new if left alone forever so it does require maintenance to keep it looking fresh, Cedar every year or two, Balau and similar hardwoods every 3-5 years as it's more durable and dense. Avoid a grooved finish in my opinion, you might think it adds more grip but it allows dirt and the slippy stuff to take hold and is harder to maintain. A nice smooth finish will give you the best look and make life a little easier when it comes around to sanding and sealing. As for expense, in the long run it may prove more costly with the maintenance if you're employing someone to do the work but for installations hardwood is a lot cheaper. So even if you're living in soggy Manchester it's certainly worth considering for your landscape design project. For a good selection of hardwood timber and similar products take a look at the link below. https://www.silvatimber.co.uk/decking.html There is one more to consider called Kebony. It's a sustainable softwood engineered to take on the properties of hardwood. It requires little to no maintenance and gives you the finish of a striking tropical hardwood. It's an incredible material developed in Norway, it silvers beautifully and you'll sleep much better at night knowing how much more environmentally friendly it is compared to tropical hardwoods. Follow the link below for more information. http://kebony.com/en/ ​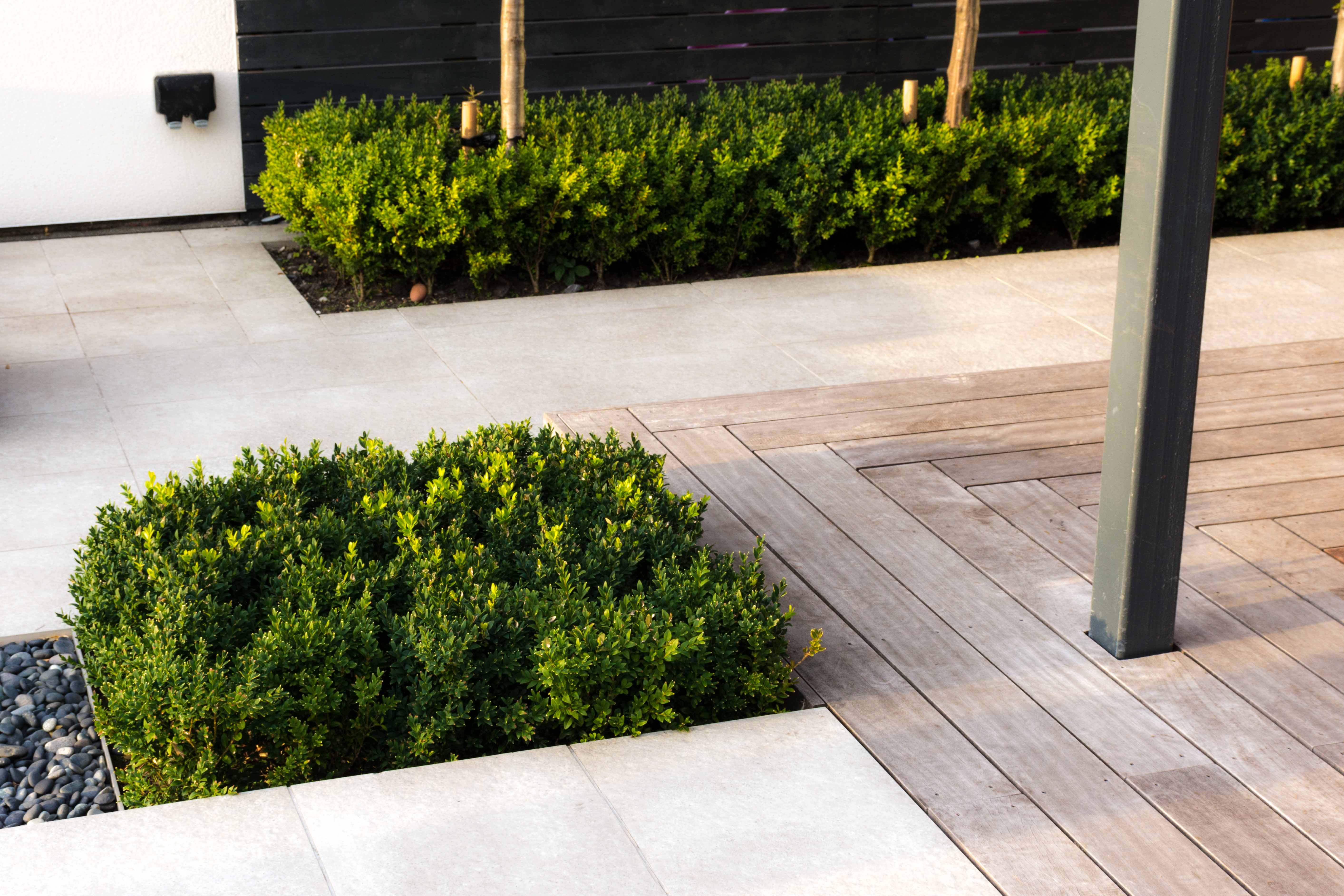 How much should and does it cost to build a modern garden?
Now there's a question! As a designer I'm always trying to stretch the clients budget. Not because I want to make as much money out of the client as I can, quite the opposite. I don't really see any of it. I do so because you don't actually "see" that much for money these days, a lot of it's in the ground or in labour costs. Materials are more expensive and let's face it, Landscaping has come a long way in the last 10 years. Processes are more challenging/demanding and good landscapers are making sure that your garden lasts for years to come and isn't, like in some of the past decades shocking TV garden makeover programmes, going to need ripping up in a couple of years do to shoddy jobs. I'm also stretching your budget to make your garden as exciting as I can. If you love landscapes you want your work to be as good as it can and as a service provider I want happy clients. I'm sure there are garden designers and landscapers out there that can do a job half the price of what me and my guys do, I have work with some in the past. It may seem like excellent value for money but I assure you it's not. 'If it's worth doing it's worth doing properly' to use a cliche, but it's true. Gardens are a huge investment and if I was spending £15 000 - £150 000 on my garden I'd want to know that my money was well invested. So how much exactly. Well that's an impossible question to answer as each project has so many variations. On average a small garden can cost between £150 and £350 per square metre. Large gardens tend to be a little more economical averaging £100 - £250 per square metre. There are lots of tricks I have up my sleeve to help get the installation cost down if required but in my experience whenever the client is faced with the budget or the luxury option they choose the latter most of the time.
What is the best time of year to build a garden?
It's been a while since I last posted anything, it's been a busy year with my own project. I thought seeing as though the nights are drawing to a close and winter is on the horizon I'd answer a question that I get asked a lot at this time of year. When is the best time to install a garden and can you do it through winter? Well in short the best time is whenever it isn't raining and when it's not too hot or too cold. That could be any time living in our climate. When I used to build gardens sometimes August would be our worst month due to the sheer volume of rain and December a great month if it was dry. You never know. Sure there are things you can't do in the freezing cold like rendering or using some cement products but that doesn't tend to hold many projects up for long. Winter in my opinion is a great time to build a garden as it's ready for the spring. Right now most companies that I work with and highly recommend are booked up for anything from 3 - 12 months so whatever you do, planning ahead is key. If you wan't your garden ready for next summer then now is the time to act as designers are often busy and designs can take a long time to complete, as well as the quotation process and finding the right landscaper for you. If you're interested in having a design and you want your garden ready for the summer then get in touch as soon as you can so we can get you booked in and get that topiary ball rolling.​
Low-Maintenance Garden Edging Options You Should Try​
Due to my busy schedule I've been unable to post anything for a while so content manager and Horticulturalist Cassie Steele has kindly written a piece, I hope you enjoy and find it useful... While 3 out of 4 American households have landscaping, up to 44% of them still hire a pro to take care of their lawn and gardening needs, according to a consumer survey by the National Association of Landscape Professionals. However, that doesn't mean that you can't transform your landscape on your own. If you're looking for unique ideas to design your garden without necessarily hiring a professional gardener, perhaps it's time you rethink your garden edges. Installing new edges is one of the easiest and fastest ways to improve the look of your garden.Whether you want to draw attention to a garden bench, dress up a swathe of colorful perennials or simply keep gravel inbounds, defining what your garden will be should help you choose the right type of edging. Here are some top low-maintenance garden edging options you should try: The Classic BricksBricks offer a classic look, with new, red bricks offering a modern crisp look, and salvaged bricks lending a timeworn and subtle appearance. The good thing about incorporating bricks for your garden edging option is the fact that they easily adapt to both straight runs and tight angles, and can host lichen and moss. However, intermediate masonry skills are needed for creating curves. The low-profile and weathered surface of bricks easily shift attention to your lawn, lush garden or Creative outdoor water features like a fountain. Locally Sourced StonesWhen you want a more natural-looking garden edging alternative that's easy to setup with zero maintenance work, go for stone edging. You can easily source different sized stones locally or get a load of them from a local supplier. Stones pair well with any type of garden. The challenge lies in placing them one by one to create the desired look you want. Mimicking nature can be surprisingly hard. To achieve the best natural look, consider blending different types of stones like river rocks and natural stone, with the casual arrangement of your plants. Whatever option you choose, your ultimate goal is to create a relaxing outdoor space. For the installation, first, determine how you'll want to mark the start and finish of your stone edging. For instance, you can place large stones at either end of the garden bed or opt for a series of increasingly smaller stones to create some background contrast. You'll want to roll each stone before placement to find its best side before laying it on the garden bed. Unless your stones are small, make sure they're buried at least 1-2 inches deep for a natural look. The Elegant Metal Landscape EdgingMetal edging is becoming an increasingly popular edging option in home gardens. It offers an elegant, timeless and clean-cut solution to keep curvaceous materials like stones and gravel contained, while also creating a practical transition between your garden bed and lawn. Metal edging is considered the staple of the modern day garden, is strong enough to remain rigid after installation and is ideal where straight lines and geometric designs are desired. The best choice of metal is usually steel, available with corrosion-resistant finishes and aluminum - heavy gauge, which is rust-free. Metal edging comes in long strips in similar heights, widths, lengths and colors. To install, first check the soil. If it's soft enough, you don't need to dig a small trench. Start by placing a 2x4 strip on the top edge and use a small sledgehammer to drive the edging into the ground. To ensure proper anchoring, pound in matching metal stakes on both sides. Metal can also be used in a variety of ways in homes to create stunning DIY projects for your indoors and outdoors. Garden edgings are not limited to what you might find online or at your local garden center. Sometimes, the greatest edging for your garden could be a conventional material like old wine bottles, bamboo sticks and fallen wood used in an unconventional way to create sharp-looking boundaries between your lawn and garden. Try out these low-maintenance edging options to give your garden a cleaner look. Cassie Steele
Art deco garden - Northern Design Awards Finalist
Just recently my Art deco inspired garden in Cheshire was selected as a finalist in the Domestic Landscapes category and it will soon be featured in the Pro landscaper Manchester supplement so I thought I'd do a little write up and give a little background information on the garden including the brief, the journey and the products selected and challenges faced. The brief from the clientHaving the luxury of two private gardens and being able to dedicate the other garden for the children, the clients wanted to create a contemporary, urban garden garden for themselves to enjoy. They wanted a space with a 'wow' factor with bold lines and an industrial feel. At the same time the garden needed to be inviting with a relaxed atmosphere, a space that was modern but not too stark or clinical. It was during the initial consultation that the designer picked up on the 30's style architecture of the property and somewhat Art deco influence of the sitting room decor which backs onto the garden and suggested using the classic design style as inspiration for the garden. The planting brief was to create interest and warmth using texture but to be unfussy in colour with subtle splashes of white and purple tones. The design and build processThe client made it very clear from the initial stages that they wanted to allow the designer every freedom to create a garden which wasn't too influenced by their suggestions, instead allowed to develop naturally. Having such freedoms during the design stage allowed the garden to remain balanced. Although in essence it is a contemporary garden, having a theme as complimentary as Art Deco made the design process fun and interesting. The garden subtly demonstrates some of the patterns found in Art Deco architecture, art, interior and furniture design, such as the paving border and the custom designed water feature and wall hung screens. As the existing garden was quite small, featureless and flat and views out to the space were limited the clients required height interest to bring the garden to life. A wood store was also needed. In response to this the idea of the screens and the pergola were introduced however they only provided a framing around the striking white stems of the Himalayan Birch. Once decided on the masterplan a local contractor and friend of the client, Graeme Neald was brought in to translate the plan. Despite on the exterior this being a simple garden of formal lines, getting the lines to a match precisely was a challenge. The majority of the build ran very smoothly with good weather throughout, also the benefit of being next to the road helped as materials could be craned over the wall. On completion of the garden the client wanted a sofa to match and commissioned me to create one which tied in with the gardens materials. MaterialsThe majority of the materials were all sourced from local suppliers to the North West. The granite paving, slate walling and pebbles were sourced from Landscape World, Widnes. The Yellow Balau fencing was sourced from Whitmores Timber, Winsford. Stockport Metal Fabricators created the bespoke metalwork according to the detailed custom designs. All the plants and trees were sourced and supplied by Ladybrook Nurseries, Bramhall. Paving & Walling Landscape World Timber Whitmores Timber MetalworkStockport Metal Fabrications Water blade and Pond lightsWater Garden Plants & TreesLadybrook Nursey
R

obert Hughes
Garden Design


Robert Hughes Garden Design
Robert Hughes Garden Design