Composite or Hardwood decking? ​
In the not too distant past, back when I first picked up a shovel and ventured into landscaping and garden design, timber decking was all the rage and we were throwing together American style decks like there was no tomorrow. Except tomorrow it rained, and the day after, and half of the days to come after that. We soon realised that softwood was not meant for decking in the UK, especially in the gardens of the North West of England. After all of the scrubbing and re-staining along came composite decking. It look a bit plastic but it meant we could still have decking but we didn't have to spend hours maintaining each year. It didn't look perfect but it did the trick, kind of! Over the past few years decking has really made a comeback and whereas before my clients shuddered at the suggestion of a deck, many are now seeing the benefits of them and they've once again become an integral part of the contemporary landscape. They add texture with their clean lines and bright ideas such as ground level decks they break up the paving adding shape and form. The question I ask my clients when they include decking in their design brief is Timber or Composite? I still see that shudder as soon as i mention timber. "No not softwood, hardwood" I explain, yet still I'm met with reservations. Which should you choose, what are the benefits of each type of material and what are the drawbacks? Let's start with composite decking. Often recycled plastics and wood fibres this isn't going to rot, swell, twist and warp although the frame it's built on may still do so. Some are non-slip but a lot are not and equally dangerous especially in frosty or damp, shady conditions. You can now use composite frames to build decks on which it a no-brainer if you ask me, but this is the most expensive way of building a deck. Composite require very little maintenance, just the odd sweep and washing down. My problem with them is always the visual appeal, some look good especially in silver as they don't look so much like plastic wood. Within the last few years Millboard has risen and brought us their incredible Enhanced grain which is polyurethane moulded from smooth timber to give a really effective and non-slip finish (see image). It actually looks like wood! It's not cheap however and by far the most expensive option when creating a deck but well worth it. Follow the link for more information https://www.millboard.co.uk Forget your previous experiences of Scandinavian Pine decking, there is a natural alternative in alternative softwoods and tropical hardwoods. If it's in the damp shade all day then it can gather algae and may get slippy as will anything, even composite decking in the same position. There are several options from the more durable softwoods such as Red Western Cedar and Siberian Larch to the almost indestructible tropical hardwoods such as Yellow Balau, Iroko, Mandioqueira etc. All FSC certified and sourced from sustainable sources although they wouldn't be as environmentally friendly as composite. For me this is the look I would want in my garden. It won't look as new if left alone forever so it does require maintenance to keep it looking fresh, Cedar every year or two, Balau and similar hardwoods every 3-5 years as it's more durable and dense. Avoid a grooved finish in my opinion, you might think it adds more grip but it allows dirt and the slippy stuff to take hold and is harder to maintain. A nice smooth finish will give you the best look and make life a little easier when it comes around to sanding and sealing. As for expense, in the long run it may prove more costly with the maintenance if you're employing someone to do the work but for installations hardwood is a lot cheaper. So even if you're living in soggy Manchester it's certainly worth considering for your landscape design project. For a good selection of hardwood timber and similar products take a look at the link below. https://www.silvatimber.co.uk/decking.html There is one more to consider called Kebony. It's a sustainable softwood engineered to take on the properties of hardwood. It requires little to no maintenance and gives you the finish of a striking tropical hardwood. It's an incredible material developed in Norway, it silvers beautifully and you'll sleep much better at night knowing how much more environmentally friendly it is compared to tropical hardwoods. Follow the link below for more information. http://kebony.com/en/ ​
Building landscapes - Choosing a builder as your landscape contractor​
Just the other day I was at the ProLandscaper live event in Cheshire and I was talking to other garden designers about builders building gardens. One told me they refused to work with their builder and he'd recommend him to the client! I took home a copy of the new magazine and in the back there's an article on the subject, I thought I'd address this in my blog as it's something of a constant bugbear and has given me no end of trouble in the past. Only a couple of weeks ago I was informed by a client that they wanted their builder to install their garden, not an unusual request. I've got one project about to start and they've insisted on using their builder due to time constraints. Whenever I'm told this the look on my face is one of shock horror. It's often followed by a comment like 'well my builders really good'. There's a misconception that builders are qualified to build landscapes. Yes there are similar skill sets but you wouldn't ask your landscaper to build an extension. Yes they could do it but it wouldn't be anywhere near as good as what a builder could produce. Since dropping the tools in 2015 and working with contractors to deliver my Landscapes I must have worked with about 10-15 builders reluctantly. I've worked with some really good builders too, not average run of the mill builders. The problems occur either when other jobs take precedence. Often the builder will be doing the client a favour by adding on the external works to an extension and the focus dissipates causing quality issues. Other problems such as an understanding of technical products or the lack of, where i might find myself having to explain how to install particular items. Sensitivity to soft landscaping is unheard of and this is where I can guarantee there can be issues. Plants are living beings and they won't take kindly to cement being poured and tools being washed in the borders contaminating sub and top soils. To me there is no room for builders in the garden. It's a problem waiting to occur. I will work with builders and do the best I can to educate and monitor them but only at the clients insistence. I would never advise it and if you're thinking that you'd really like to use your builder to install your garden because you have a good relationship, you trust them, they do a good job. I strongly advise you to forget it. Good landscapers are worth their weight in gold and would always be the right choice. I work with some excellent landscapers who create the gardens I design all around the North west. You'll be in excellent hands and it'll mean you need to see less of my ugly face which can only be a good thing.​
Should I employ my designer to oversee the build
To some it might seem like an unwanted expense to employ your Garden designer to oversee the build whereas in fact its a false economy not to! On projects I've not been involved in the build in the past I've often paid a visit to see the finished product and have been underwhelmed. Sometimes by the standard of workmanship but they're often from the companies I haven't recommended but more common by the installers interpretation of the plans. I put a lot of detail into my designs which should result in me being required less on site.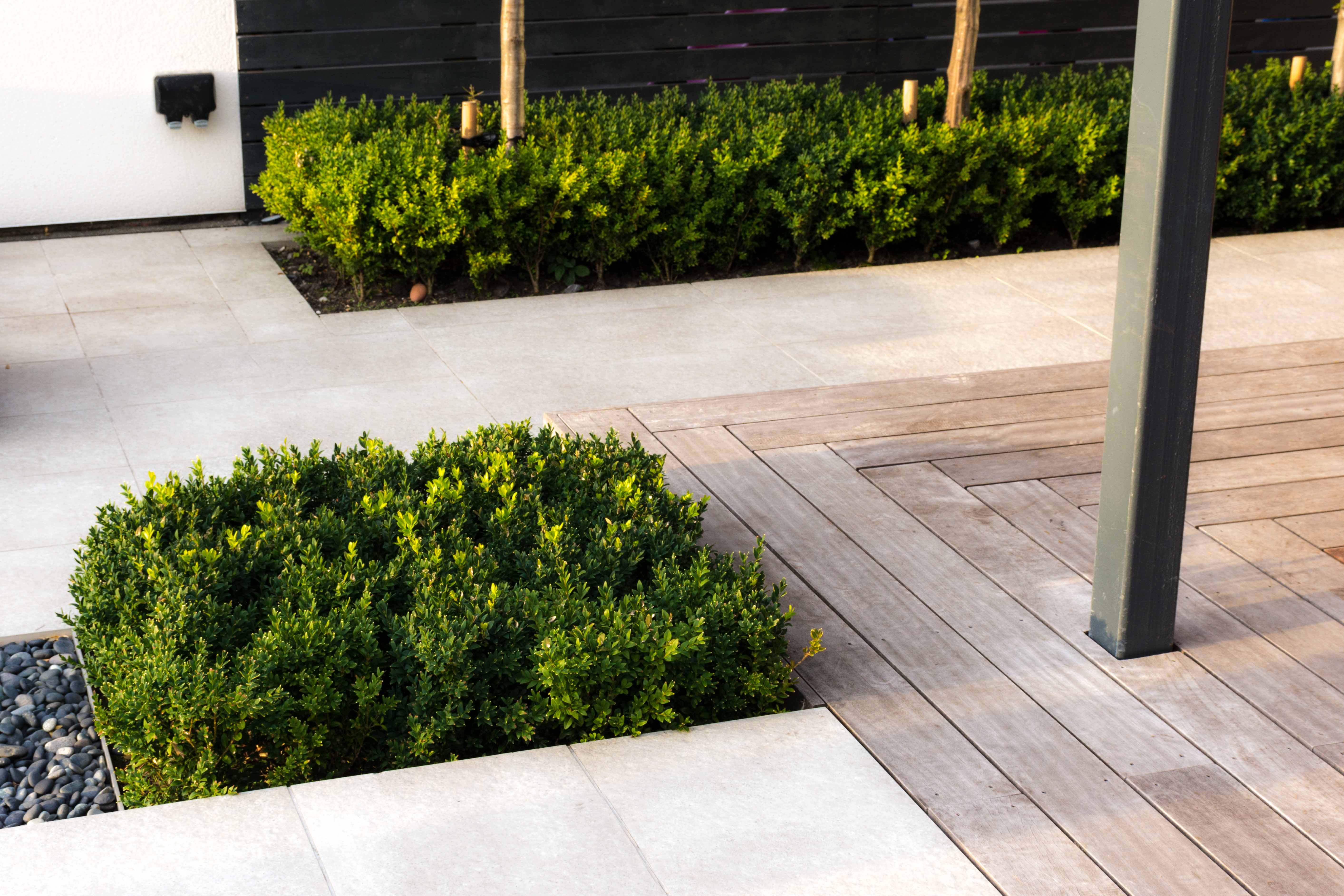 How much should and does it cost to build a modern garden?
Now there's a question! As a designer I'm always trying to stretch the clients budget. Not because I want to make as much money out of the client as I can, quite the opposite. I don't really see any of it. I do so because you don't actually "see" that much for money these days, a lot of it's in the ground or in labour costs. Materials are more expensive and let's face it, Landscaping has come a long way in the last 10 years. Processes are more challenging/demanding and good landscapers are making sure that your garden lasts for years to come and isn't, like in some of the past decades shocking TV garden makeover programmes, going to need ripping up in a couple of years do to shoddy jobs. I'm also stretching your budget to make your garden as exciting as I can. If you love landscapes you want your work to be as good as it can and as a service provider I want happy clients. I'm sure there are garden designers and landscapers out there that can do a job half the price of what me and my guys do, I have work with some in the past. It may seem like excellent value for money but I assure you it's not. 'If it's worth doing it's worth doing properly' to use a cliche, but it's true. Gardens are a huge investment and if I was spending £15 000 - £150 000 on my garden I'd want to know that my money was well invested. So how much exactly. Well that's an impossible question to answer as each project has so many variations. On average a small garden can cost between £150 and £350 per square metre. Large gardens tend to be a little more economical averaging £100 - £250 per square metre. There are lots of tricks I have up my sleeve to help get the installation cost down if required but in my experience whenever the client is faced with the budget or the luxury option they choose the latter most of the time.
What is the best time of year to build a garden?
It's been a while since I last posted anything, it's been a busy year with my own project. I thought seeing as though the nights are drawing to a close and winter is on the horizon I'd answer a question that I get asked a lot at this time of year. When is the best time to install a garden and can you do it through winter? Well in short the best time is whenever it isn't raining and when it's not too hot or too cold. That could be any time living in our climate. When I used to build gardens sometimes August would be our worst month due to the sheer volume of rain and December a great month if it was dry. You never know. Sure there are things you can't do in the freezing cold like rendering or using some cement products but that doesn't tend to hold many projects up for long. Winter in my opinion is a great time to build a garden as it's ready for the spring. Right now most companies that I work with and highly recommend are booked up for anything from 3 - 12 months so whatever you do, planning ahead is key. If you wan't your garden ready for next summer then now is the time to act as designers are often busy and designs can take a long time to complete, as well as the quotation process and finding the right landscaper for you. If you're interested in having a design and you want your garden ready for the summer then get in touch as soon as you can so we can get you booked in and get that topiary ball rolling.​
R

obert Hughes
Garden Design


Robert Hughes Garden Design
Robert Hughes Garden Design